Uploading Google Docs to WordPress used to be a chore. It's hard enough to come up with good blog post ideas, write them efficiently, and edit your work (and possibly that of other writers).
Then you have to spend an extra couple hours tediously re-formatting the article you've already written in Google Docs for WordPress. What nonsense.
Luckily, there's a solution. This post will outline how you can save hours and upload Google Docs to WordPress in 5 simple steps. We'll also outline some alternative ways to go about it if you don't plan on checking out Wordable (we've got a free trial, though, so there are no risks or downsides).
Let's just dive in.
How to Upload Google Docs to WordPress in 5 Steps
There are only 5 steps to uploading Google Docs to WordPress:
Sign up for a free Wordable account
Find your Google Docs draft in the "documents" section
Click "export" and wait for it to upload
Find your draft in the WordPress "posts" section
Do a final sweep of your content and click publish!
1. Sign up for a Wordable account
First thing's first: go to Wordable.io and click "Try Free." Sign up for a free account.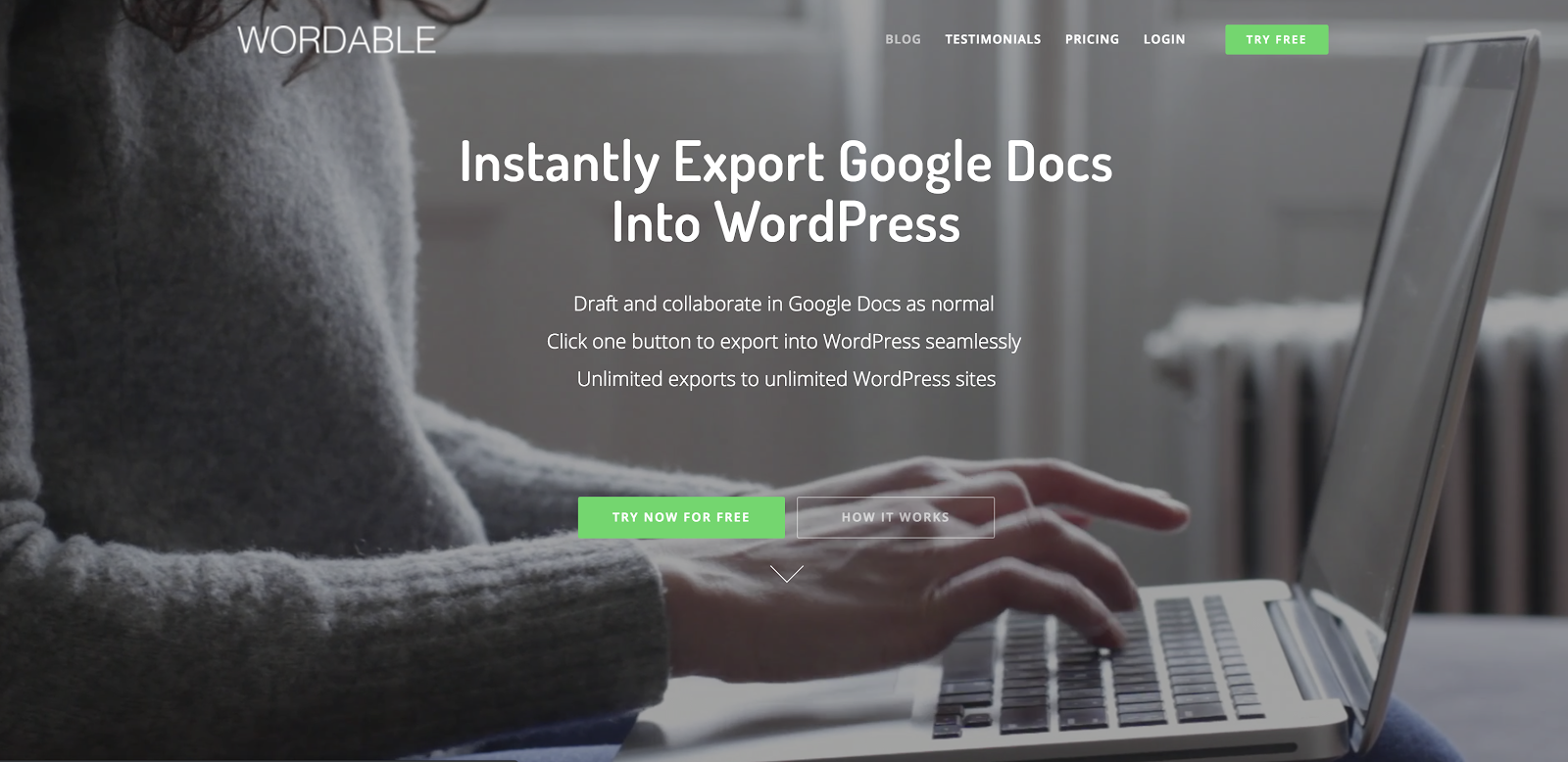 Sign up should only take a few moments. You'll be asked to authenticate your account using Google, and then you'll have to set up a WordPress property connection. All of this should take a very short amount of time.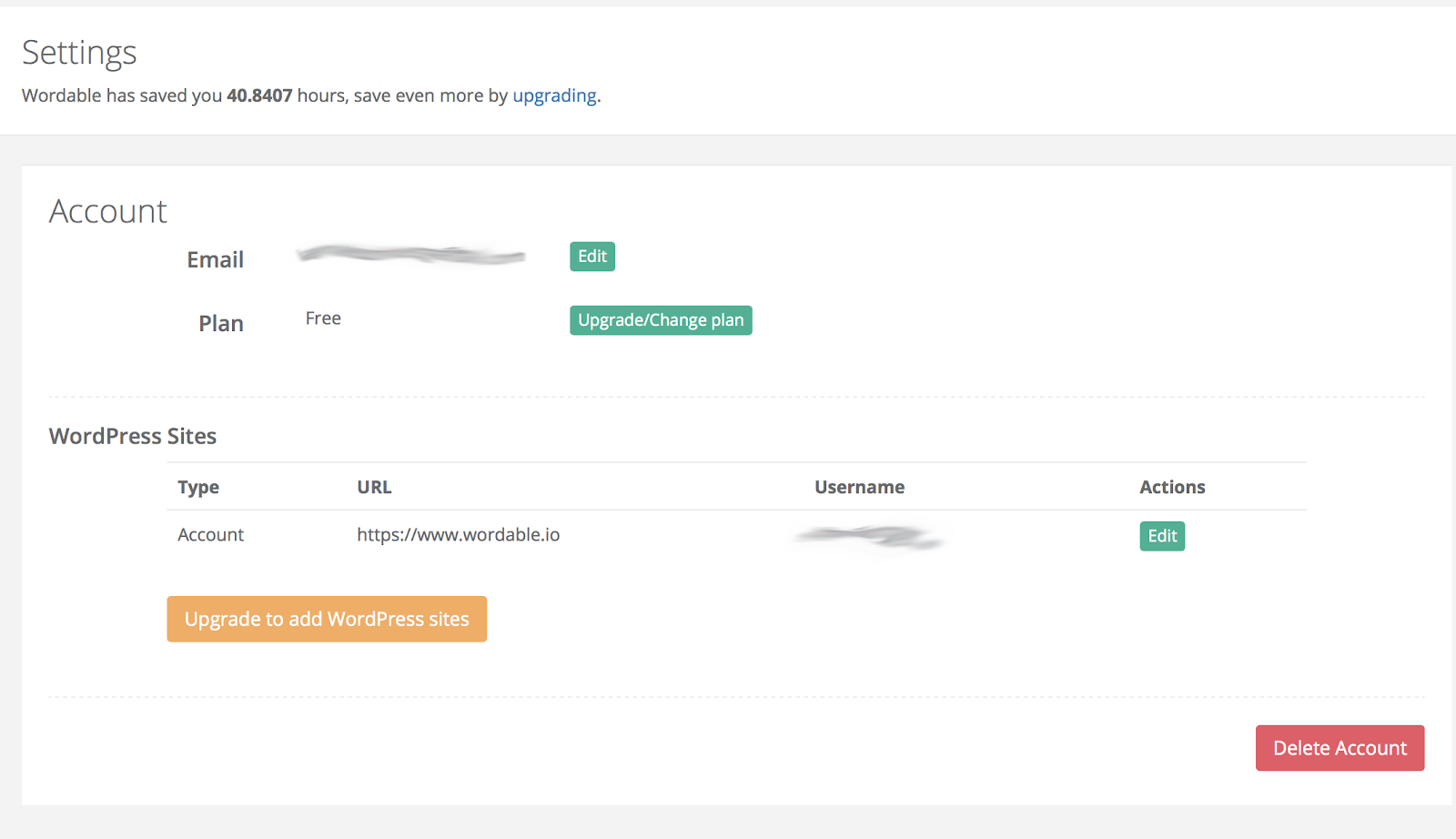 2. Find your draft in the "Documents" section
Once you've got things set up, you should be able to find your Google Docs draft in the "Documents" section of the Wordable dashboard. For the purposes of this demonstration, let's use the top post, on "72+ Blog Tools."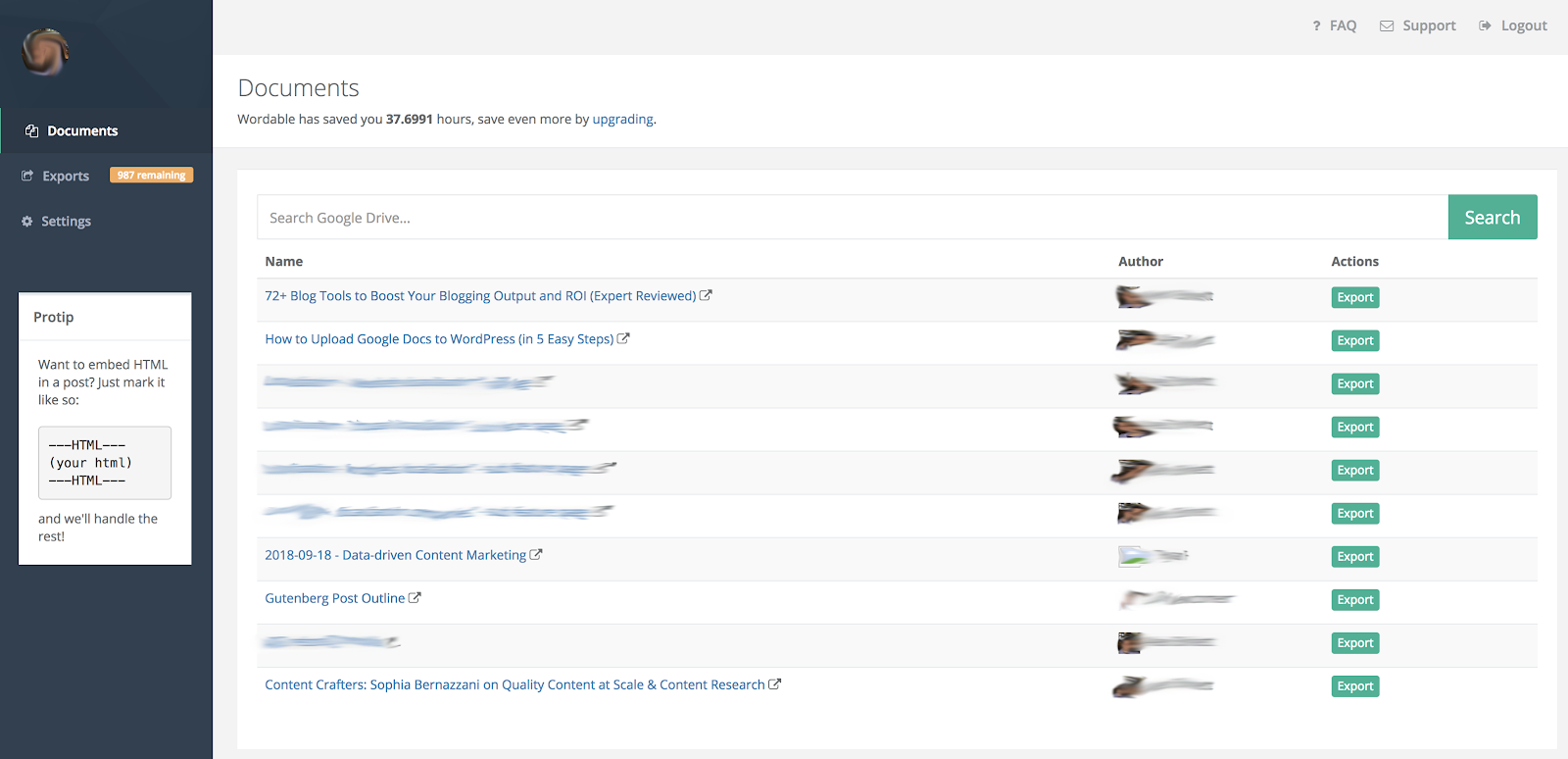 Before you do anything regarding upload your Google Docs to WordPress, you'll want to give it a final sweep over in Google Docs. Make sure it's fully formatted and edited in Google Docs before moving forward.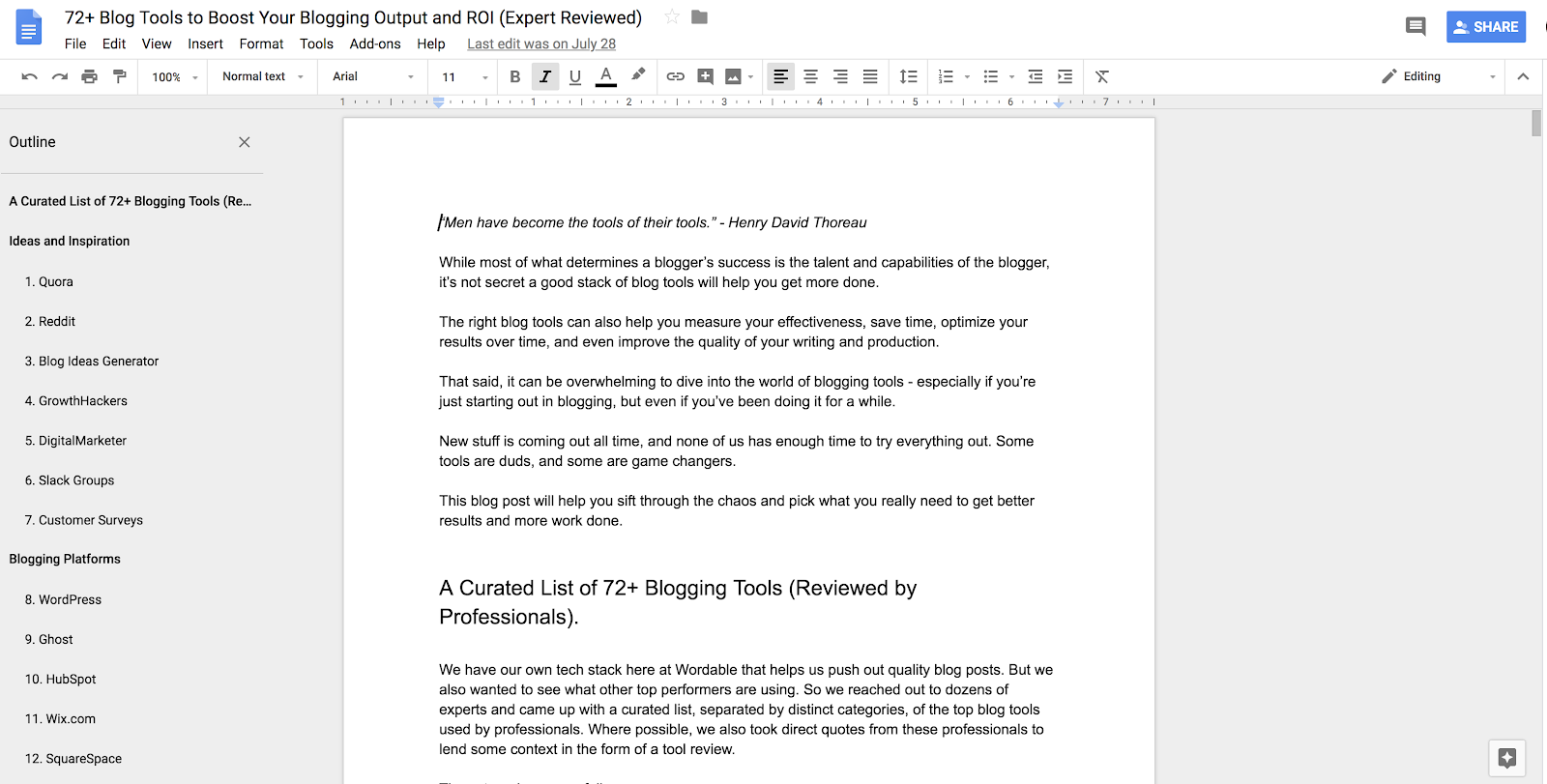 3. Click "Export" and start uploading your document
Once you've determined things look good in Google Docs (did you check your font styles, image placement, captions, and headlines?), you can go ahead and click the "export" button under the "actions" column. All of this is found in the "Documents" section of the Wordable dashboard.
You'll get a confirmation overlay that looks like this, where you can see the title and choose whether you want it to be a post or a page: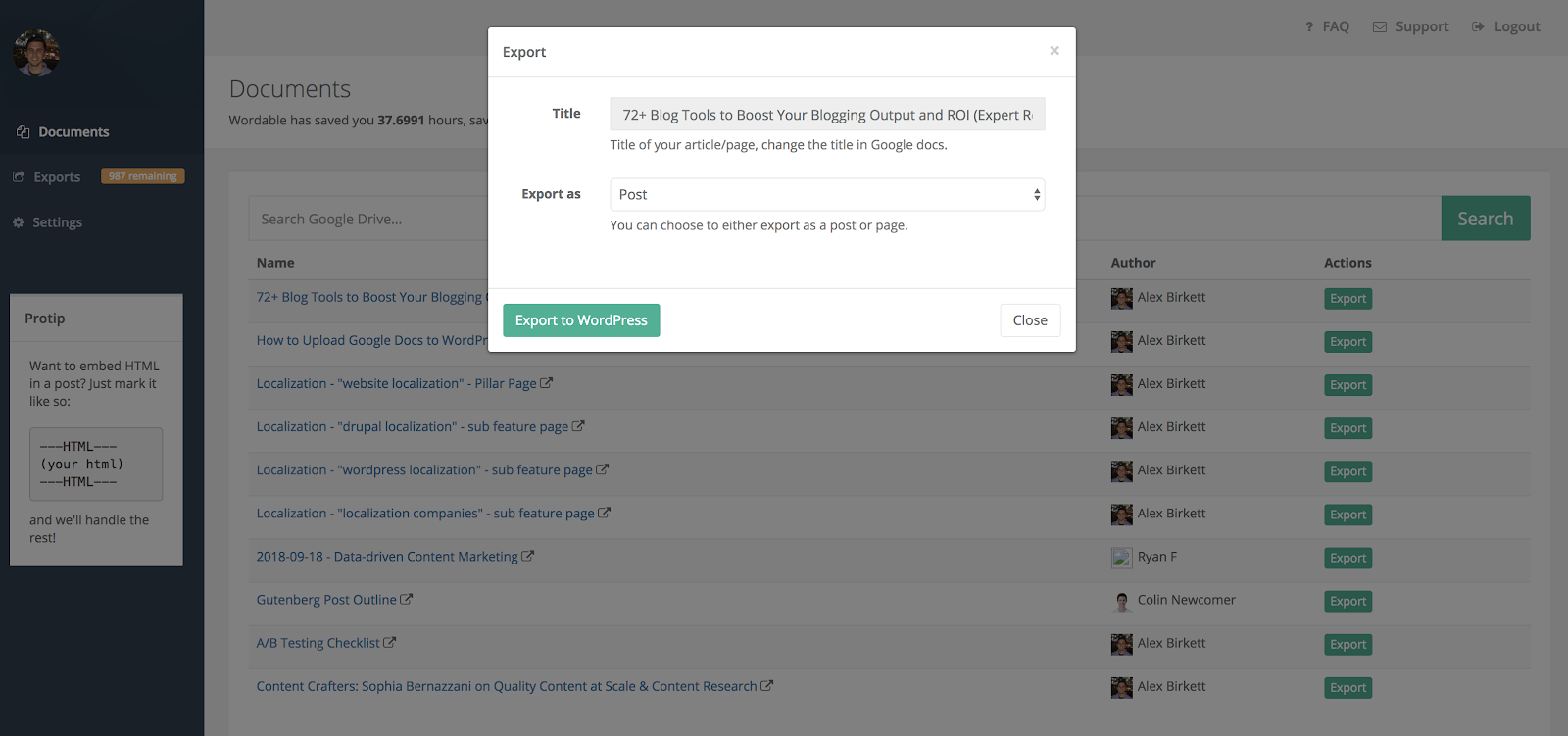 Once you click "Export to WordPress," the uploading process will begin. The time it takes depends on the length of the post and the number of images, but generally it's only a few seconds, and definitely under a minute. You can see the status automatically update as the post uploads:

4. Find your draft in WordPress's "posts" section.
When your post has been uploaded successfully, the status in Wordable will say "published as draft":

You can use this as an indicator that your draft should show up in your WordPress dashboard. Look under "posts" or "pages" (depending on which upload type you chose). Here we can see that our "blog tools" post does indeed show up as a draft in the WordPress dashboard: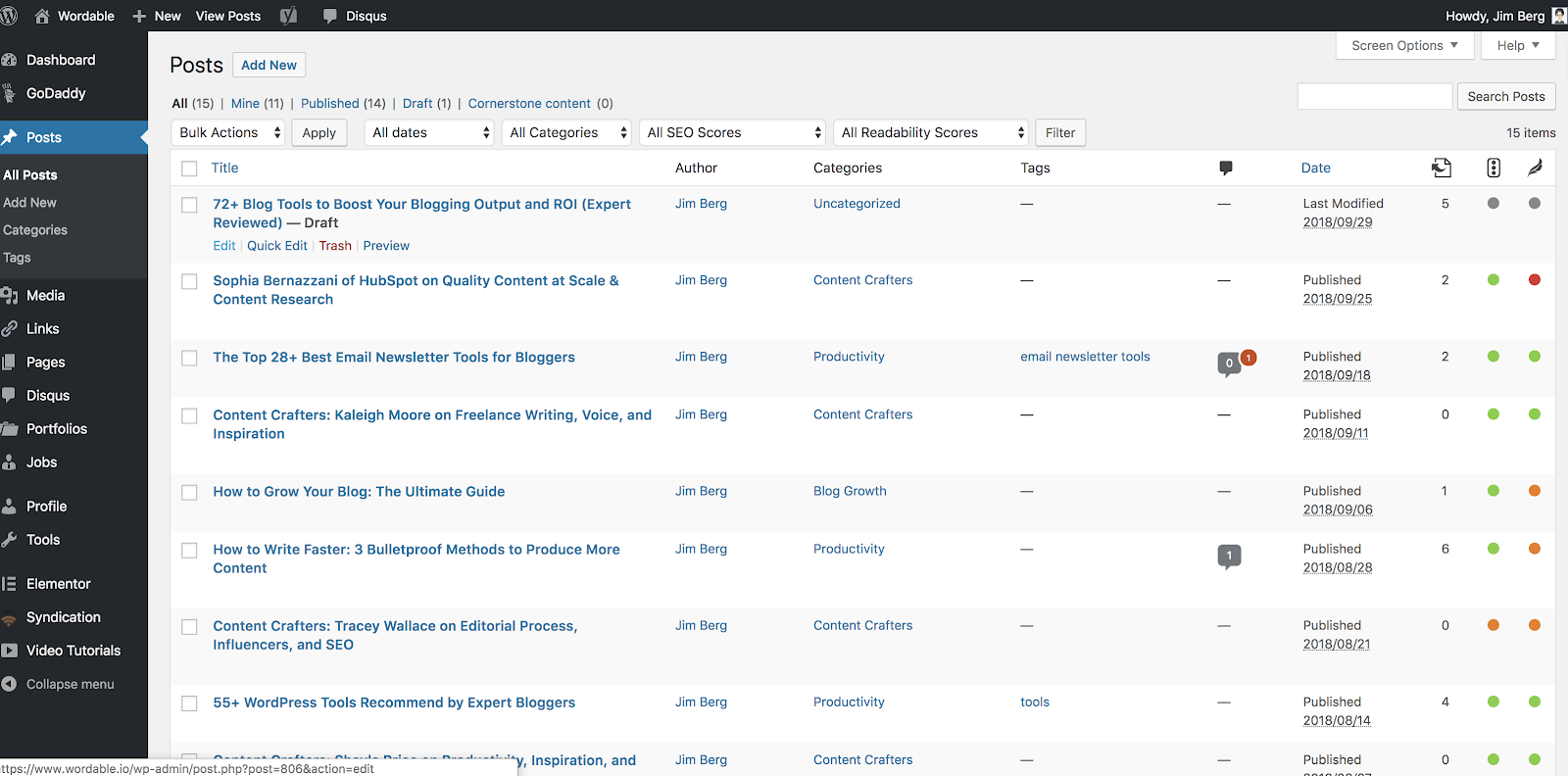 5. Do one final sweep and click "publish"
Everything looks good. Now, before publishing, make sure you do a final sweep. Wordable lets you upload the Google Doc to WordPress, but you still may want to tweak some HTML or add a Category type or a tag. All of this can be done relatively quickly using WordPress "edit" function: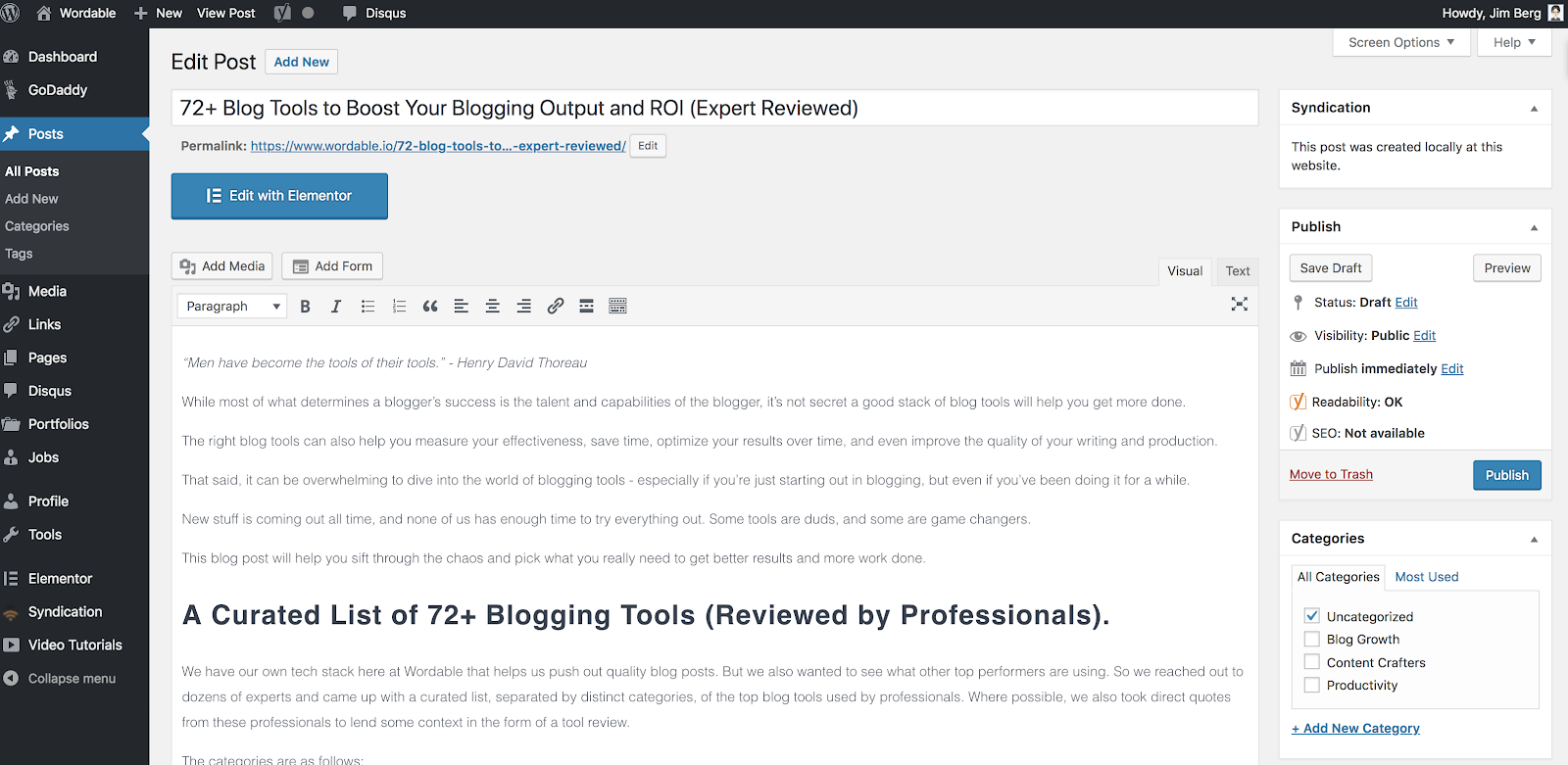 If you use a tool like Yoast, you'll need to add all of that information in as well.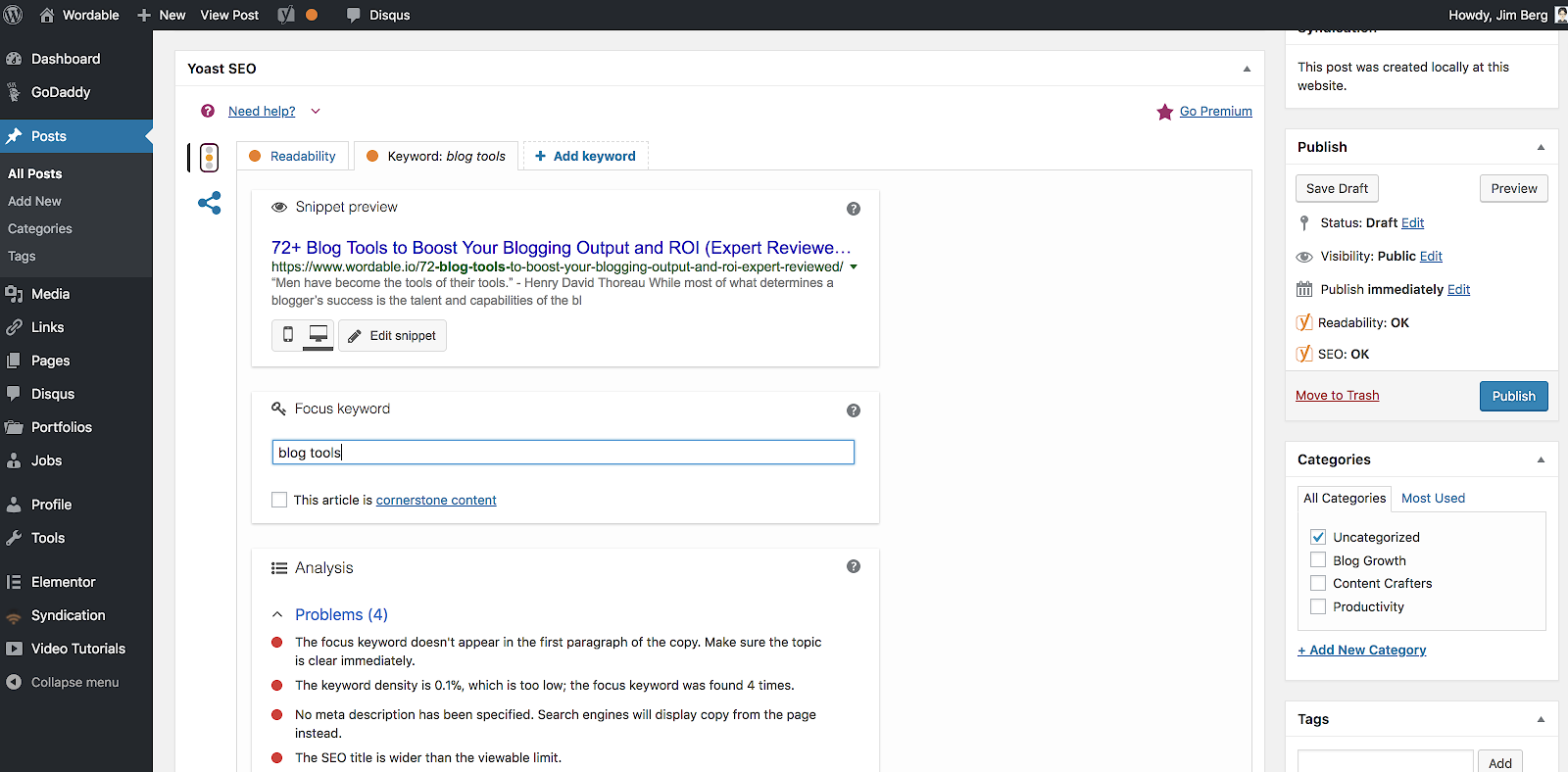 No matter what, it always helps to measure twice and cut once. Do a QA check, and click "publish." You're live! That was easy, right?
Other Ways to Upload Google Docs to WordPress
What are the alternatives to using Wordable to upload Google Docs to WordPress?
Well, there's the old school way. Looks like this:
Write your draft in Google Docs.
Do all editing there and format using proper headlines and font styling.
Create "new post" in WordPress.
Copy and Paste your draft there
Go into "edit" mode and fix every strange quirk that occured in Copy + Pasting

This step can take anywhere from 20 minutes to several hours.

Do a final sweep, QA, and publish.
The time it takes to do that is a few hours. The time it takes to upload using Wordable is less than five minutes.
Other possible solutions? Zapier has a connection between Google Docs and WordPress, but it's not very suitable for publishers. You could technically create a Zap to create a new post whenever you have a new draft in Google Docs. But that assumes finality to your draft. What if you want to add, remove, or change content? Tough. So it's not the best solution for someone operating content production at scale.
Conclusion
The process to upload Google Docs to WordPress is simple. We can even condense it to three steps:
Sign up for Wordable
Export your draft to WordPress using Wordable
QA in WordPress and hit publish.
Wordable has a free trial. Give it a try. If you publish more than once per month, it's worth the cost in the amount of time and effort you save.